Monday, February 13, 7 p.m.
Before the Rain (Macedonia, France 1994)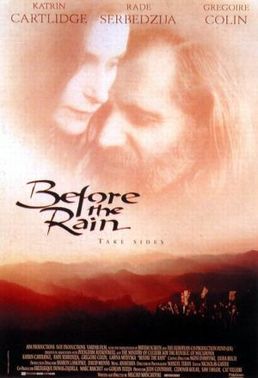 Director: Milcho Manchevski
Rated: NR
Runtime: 112 min
Language: Macedonian | English | Albanian | French with English subtitles
Cast: Katrin Cartlidge, Rade Serbedzija, Grégoire Colin, Labina Mitevska, Jay Villers, Silvija Stojanovska

This acclaimed Macedonian drama, Milcho Manchevski's first feature film, presents intersecting romantic storylines set both in that country and abroad. A young monk named Kiril (Grégoire Colin) becomes involved with Zamira (Labina Mitevska), an Albanian girl accused of murder, while far away in London, Aleksander (Rade Serbedzija), a weary photojournalist, meets with his married lover, Anne (Katrin Cartlidge). When Aleksander returns to his Macedonian village, his life crosses paths with characters from earlier in the film. "Before the Rain" was nominated for an Academy Award for Best Foreign Language Film and won the Golden Lion award at 51st Venice International Film Festival.


---
Monday, February 27, 7 p.m.
Lo and Behold, Reveries of the Connected World (USA, 2016)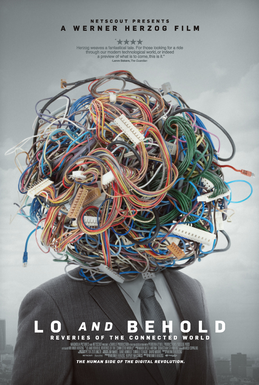 Director: Werner Herzog
Rated: PG-13
Runtime: 98 minutes

The Oscar®-nominated documentarian Werner Herzog ("Grizzly Man," "Cave of Forgotten Dreams") chronicles the virtual world from its origins to its outermost reaches, exploring the digital landscape with the same curiosity and imagination he previously trained on earthly destinations as disparate as the Amazon, the Sahara, the South Pole and the Australian outback. Herzog leads viewers on a journey through a series of provocative conversations that reveal the ways in which the online world has transformed how virtually everything in the real world works - from business to education, space travel to healthcare, and the very heart of how we conduct our personal relationships.

---
Monday, March 6, 7 p.m.
A Night at the Opera (1936)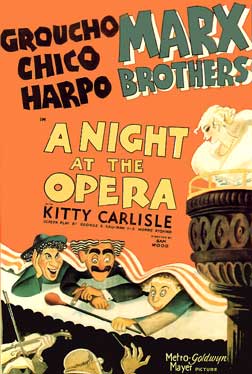 A Night at the Opera (USA, 1936)
Director: Sam Wood
Rated: Not Rated
Runtime: 93 minutes

The musical comedy, "A Night at the opera," is the sixth of thirteen Marx Brothers feature films and universally considered to be the Marx Brothers' best and most popular film, receiving critical acclaim when released. In homage to this film, the mid-70s raunchy, mock opera rock band Queen, with lead singer Freddie Mercury, named its fourth album after this film. (They also named their next album after another Marx Bros. film, "A Day at the Races.")

The less anarchic plot and slapstick comedy of this Marx Brothers film (the first one without straight-man Zeppo) was derived from a well-developed screenplay written specifically for them by playwrights George S. Kaufman and Morrie Ryskind (who had previously worked with them on "The Cocoanuts" (1929) and "Animal Crackers" (1930).

The most famous of the comedy team's routines are included here, the crowded shipboard stateroom scene, the contract-tearing scene between Groucho and Chico, the rearranged furniture and bed-switching sequence to elude a private detective, the operatic finale (a lavish production number) with Harpo swinging Tarzan ape-like on stage fly ropes in tune to Verdi's music, and sprinkled throughout - Groucho's zippy one-line insults and flirtations with his perennial nemesis, Margaret Dumont.

It was their first film for MGM Studios - under Irving Thalberg's production. This music-oriented film followed the commercially and critically unsuccessful at the time "Duck Soup" (1933), the fifth and last film they completed for Paramount. The brothers had left behind brother Zeppo, and the more rampant, absurdist, and surreal antics that were characteristic of their first five films.

---
Monday, March 13, 7 p.m.
The Lovers and the Despot (United Kingdom, 2016)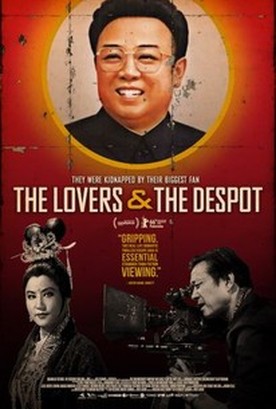 Directors: Robert Cannan and Ross Adam
Rated: Not Rated
Runtime: 94 minutes
Language: Korean | Japanese | English with English subtitles

The film tells the story of young, ambitious South Korean filmmaker Shin Sang-ok and actress Choi Eun-hee, who met and fell in love in 1950s post-war Korea. In the 70s, after reaching the top of Korean society following a string of successful films, Choi was kidnapped in Hong Kong by North Korean agents and taken to meet Kim Jong-il. While searching for Choi, Shin also was kidnapped, and following five years of imprisonment, the couple was reunited in North Korea by the movie-obsessed Kim, who declared them his personal filmmakers. Choi and Shin planned their escape, but not before producing 17 feature films for the dictator and gaining his trust in the process.

Directors' statement: We can't remember exactly when we first heard this story. For a long time it seemed to reside in our imaginations as a possibly apocryphal tale concocted by a career fabulist. It seemed far too outlandish to be true - a director and an actress kidnapped by a brutal dictator to improve his films. Many directors and actors have led fascinating lives and had passionate love affairs, but none have experienced such a thrilling melodrama as Choi and Shin. As a film about filmmakers caught up in a narrative beyond their own making, it had particular appeal for us - as storytellers - in the possibilities of its telling.

---
Monday, March 27, 7 p.m.
Animal Farm (1954)
Rated: Not Rated
Runtime: 82 minutes
Adapted from George Orwell's classic satire on Stalinism, this full-length animated film employs farmyard animals to depict the foibles that are inherent in political systems. The pigs of Manor Farm stage a coup against their cruel master (they're rebelling against substandard conditions in their sty) and attempt to establish a prosperous new regime, only to learn that absolute power always corrupts -- absolutely.


---
A documentary by Jeff Lieberman
Runtime: 105 minutes
Skype with the director following the screening hosted by Fred Adler, Festival music coordinator

Much beloved and often misunderstood, the story of America's most overlooked musical genius is finally brought to light in "The Amazing Nina Simone." Director Jeff Lieberman ("Re-Emerging: The Jews of Nigeria") takes audiences on Nina's journey from the segregated South through the worlds of classical music, jazz joints & international concert halls. Navigating through the twists & turns of the 1960s fight for racial equality, the film delves deep into Nina's artistry and intentions, answering long-held questions behind Nina's most beloved songs, bold style, controversial statements, and the reason she left America.

​"She was left out of Civil Rights history, erased by jazz critics, and forgotten by most Americans because no one knew how to categorize her greatness," says Lieberman.

But throughout the 1960s, Nina Simone was both loved and feared for her outspoken vision of Black Freedom. Her musical proclamations like "Mississippi Goddam", and her iconic style created an alternative voice that continues to empower with its unrelenting appeal for justice. Now, Lieberman's documentary reveals the real Nina Simone through over 50 intimate interviews with those who best knew the artistry and intentions of one of America's true musical geniuses charting her journey from classical music and the segregated American South all the way to the south of France where she finally found freedom.


Monday, April 10, 7 p.m.
Rebel Without a Cause (1955)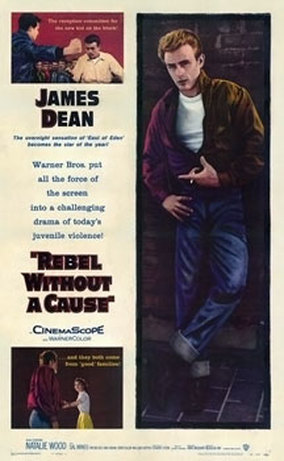 Director: Nicholas Ray
Rated: PG-13
Runtime: 111 minutes

Cast: James Dean, Natalie Wood, Sal Mineo, Jim Backus, Ann Doran, Rochelle Hudson
The landmark film that solidified Dean's image with the public follows the story of rebellious middle-class teens, disenfranchised with their parents, and given to a life of thuggery and deadly dangerous drag racing to win over women.
The film is considered Hollywood's best 50s film of rebellious and restless youth (and sex, drugs, and rock 'n' roll) that spawned many other lesser teen exploitation films in its wake.

Ironically, Dean was not nominated for his role in this film (although it eventually became his iconic career role), but was nominated instead for his Best Actor performance as insecure, tortured, neurotic loner and unappreciated son Caleb "Cal" Trask in his first major film role, "East of Eden" (1955). He was also nominated as Best Actor in the next year for his performance as Jett Rink in his third and final film," Giant" (1956), screened by the AT Film Club on Dec. 12. 2016

The time frame of the film's plot is set over a little more than one twenty-four hour period in status-conscious mid-50's Los Angeles, and confined to a limited number of locations. Both the beginning and ending of the film occur at nighttime (late night and early morning hours respectively) and are marked by the sound of approaching and departing police car sirens. The film ends with the fatal transference of Dean's scarlet red-jacket/windbreaker to Mineo.

---
Monday, April 24, 7 p.m.
Me and You and Everyone We Know (2005)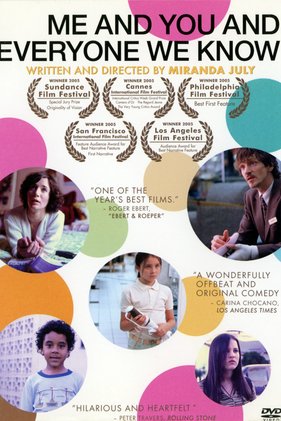 Director: Miranda July
Rated: R for disturbing sexual content involving children, and for language
Runtime: 91 minutes
Cast: John Hawkes, Miranda July, Miles Thompson, Brandon Ratcliff, Carlie Westerman, Natasha Slayton

A handful of disparate characters, both adults and children, find themselves navigating the tricky waters of intimacy in this award-winning independent comedy drama.

Eccentric Christine seeks emotional connections in the modern world while newly single shoe salesman Richard copes with his recent separation and his teenage son experiences a sexual awakening.

Me and You and Everyone We Know was the first feature film written and directed by noted performance artist Miranda July; the picture won prizes in 2005 at the Cannes Film Festival and Sundance Film Festival.


---