Monday, April 24, 7 p.m.
Me and You and Everyone We Know (2005)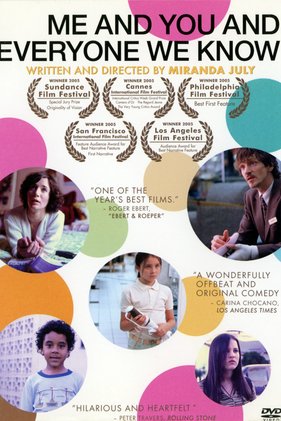 Director: Miranda July
Rated: R for disturbing sexual content involving children, and for language
Runtime: 91 minutes
Cast: John Hawkes, Miranda July, Miles Thompson, Brandon Ratcliff, Carlie Westerman, Natasha Slayton

A handful of disparate characters, both adults and children, find themselves navigating the tricky waters of intimacy in this award-winning independent comedy drama.

Eccentric Christine seeks emotional connections in the modern world while newly single shoe salesman Richard copes with his recent separation and his teenage son experiences a sexual awakening.

Me and You and Everyone We Know was the first feature film written and directed by noted performance artist Miranda July; the picture won prizes in 2005 at the Cannes Film Festival and Sundance Film Festival.


---
Monday, May 1, 7 p.m.
Being There – A Story of Chance (1979)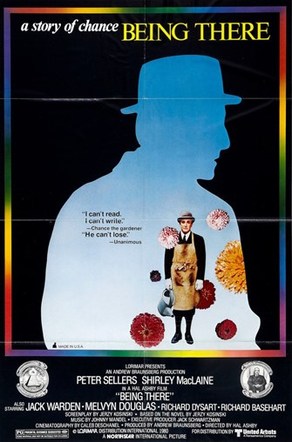 Director: Hal Ashby
Rated: PG
Runtime: 130 minutes

Cast: Peter Sellers, Shirley MacLaine, Melvyn Douglas, Jack Warden, Richard Dysart

The film is a provocative black comedy -- a wonderful tale that satirizes politics, celebrity, media-obsession and television.
Simple-minded Chance (Peter Sellers), a gardener who has resided in the Washington, D.C., townhouse of his wealthy employer for his entire life and been educated only by television, is forced to vacate his home when his boss dies. While wandering the streets, he encounters business mogul Ben Rand (Melvyn Douglas), who assumes Chance to be a fellow upper-class gentleman. Soon Chance is ushered into high society, and his unaffected gardening wisdom makes him the talk of the town.
"Being There" received two Academy Awards nominations, including Best Actor for Sellers for his superb understated performance, and a Best Supporting Actor Oscar for Melvyn Douglas.


---
Monday, May 8, 7 p.m.
Casablanca (1942)

Director: Michael Curtiz
Rated: PG
Runtime: 102 minutes

Cast: Humphrey Bogart, Ingrid Bergman, Paul Henreid

In this Oscar-winning classic, and one of the most beloved American films, this captivating wartime adventure of romance and intrigue features American expat Rick Blaine (Bogart), who plays host to gamblers, thieves and refugees at his Moroccan nightclub during World War II ... but he never expected Ilsa (Bergman) - the woman who broke his heart -- to walk through that door. Ilsa hopes that with Rick's help, she and her fugitive husband (Henreid) can escape to America. But the spark that brought the lovers together still burns brightly.

Critics consensus: An undisputed masterpiece and perhaps Hollywood's quintessential statement on love and romance, Casablanca has only improved with age, boasting career-defining performances from Humphrey Bogart and Ingrid Bergman.

Monday, May 22, 7 p.m.
Doctor Zhivago (1965)

Director: David Lean
Rated: PG
Runtime: 200 minutes

Cast: Omar Sharif, Julie Christie, Rod Steiger, Geraldine Chaplin, Tom Courtenay, Alec Guiness

Based on the Nobel Prize-winning novel by Boris Pasternak, Doctor Zhivago covers the years prior to, during, and after the Russian Revolution, as seen through the eyes of poet/physician Yuri Zhivago (Sharif). In the tradition of Russian novels, a multitude of characters and subplots intertwine within the film's 197 minutes (plus intermission).
Zhivago is married to Tonya (Chaplin), but carries on an affair with Lara (Julie Christie), who has been raped by ruthless politician Komarovsky (Steiger). Meanwhile, Zhivago's half-brother Yevgraf (Guinness) and the mysterious, revenge-seeking Strelnikoff (Courteney) represent the "good" and "bad" elements of the Bolshevik revolution.
The film earned five Academy Awards in all, including statues for Best Art Direction, Best Cinematography, Best Costume Design, Best Score and Best Screenplay.


Monday, June 5, 7 p.m.
Altered States (1980)

Director: Ken Russell
Rated: R (nudity, sex, violence, language)
Runtime: 102 minutes

Cast: William Hurt, Blair Brown, Bob Balaban, Charles Haid, Miguel Godreau

Harvard scientist Eddie Jessup's (Hurt) mind-altering experiments on himself, involving a hallucinatory drug and an isolation chamber, get out of control when his handiwork shuttles him back and forth on the evolutionary spectrum -- from human to ape-man. Equal parts sci-fi actioner, 1960s psychedelic trip and farce, the film was based on a Paddy Chayefsky novel and received Oscar nominations for music and sound.


Monday, June 12, 7 p.m.
Mary Jane - A Musical Potumentary (2017)

Director: John Howart
Rated: not rated
Runtime: 112 minutes

Humboldt County's Original Musical has moved from the stage to the screen...
In 2011, Dell'Arte International staged the world premiere of Mary Jane: the Musical at its annual Mad River Festival in Blue Lake, California. The play was performed at Arena Theater in May of 2015.

The show featured Humboldt County-centric characters facing various issues in the marijuana milieu. Mary Jane quickly gained notoriety, sold out all its performances, and became the highest-grossing show in Dell'Arte's 35-year production history.

Now, in partnership with Emmy-nominated filmmaker, John Howarth, Dell'Arte has transformed Mary Jane the Musical into a film exploring different facets of the marijuana industry in Humboldt County and examines all aspects of the local pot culture, from its regional economic importance to the grim particulars of violence and environmental degradation. The film re-imagines the stage play as a movie, and includes documentary footage of the marijuana-growing world to illustrate the reality behind the fiction.

"Behind its original songs and humor, the play about marijuana cultivation is a bittersweet, multi-generational tale that celebrates the plant while laying bare the industry's dark side." - L.A. TIMES


Monday, June 26, 7 p.m.
I Am Not Your Negro (2017) - documentary

Director: Raoul Peck
Rated: PG-13
Runtime: 93 minutes

In 1979, James Baldwin wrote a letter to his literary agent describing his next project, "Remember This House." The book was to be a revolutionary, personal account of the lives and successive assassinations of three of his close friends—Medgar Evers, Malcolm X and Martin Luther King, Jr.
At the time of Baldwin's death in 1987, he left behind only thirty completed pages of his manuscript.
Now, in his incendiary new documentary, master filmmaker Raoul Peck envisions the book Baldwin never finished. The result is a radical, up-to-the-minute examination of race in America, using Baldwin's original words and flood of rich archival material.
"I Am Not Your Negro" is a journey into black history that connects the past of the Civil Rights movement to the present of #BlackLivesMatter. It is a film that questions black representation in Hollywood and beyond. And, ultimately, by confronting the deeper connections between the lives and assassination of these three leaders, Baldwin and Peck have produced a work that challenges the very definition of what America stands for.